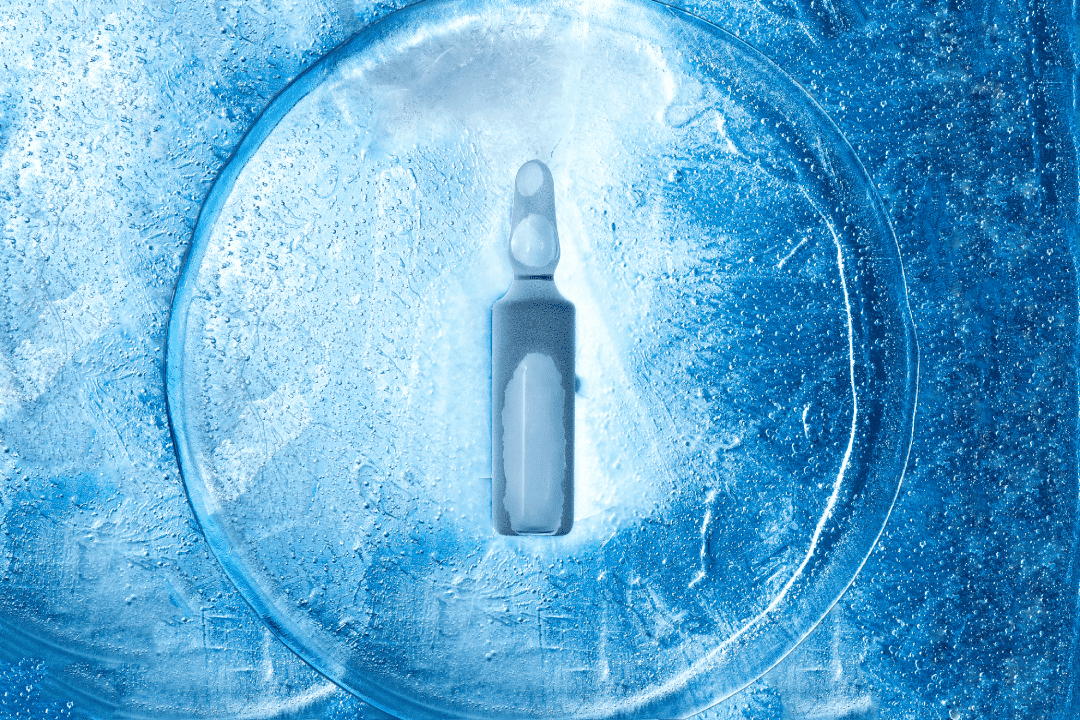 Thanks to its strategic location with only 10 minutes from Heathrow, it's safe to say that activity levels at our Poyle warehouse in London, UK are always high. And recently, they've been given a real injection of excitement. The facility has undergone its very own logistical operation that promises to enrich Aramex's dynamic healthcare and life sciences offering.
Aramex healthcare shipping, storage and logistics
Our 80,000+ square foot site is now home to a state-of-the-art temperature-controlled storeroom, primed to store customer products to the most specific conditions. Working in tandem with our international network of specialist cold chains, Aramex is set to re-define the prescription of precise and efficient logistics.
Why data powers cold chains
Whether transporting innovative treatments, like gene therapies, from laboratory to patient, or storing a bank of the latest pharmaceutical triumph, like a Covid-19 vaccine, the logistics of life sciences is full of complexities that come with risk. Not only is our ambition to lessen the possibility of hazards, but to increase efficiencies throughout the entire cold chain.
Pivotal to achieve this is data. That's data on a product's state or current location; a shipping container's past or next movements. And a cold chain's assets are key contributors to this crucial data supply. From affixing tags to products in transit that provide real-time tracking visibility to customers, to placing data loggers inside temperature-controlled packaging to monitor temperatures from pick-up to delivery, our constant stream of data provides assurance. Through the new storage facility, we enhance this provision. Becoming as close as we can be to those challenging and unique requirements of the sector allows more control over the entire temperature-sensitive operation.
Related article: Electronic Skin is a Revolutionary Advancement in Healthcare
More control means more visibility. And more visibility helps to continually streamline the safe movement and storage of sensitive goods whilst closely monitoring any potential for issues, from bottle-necks to transport delays to fluctuations in temperature. The earlier problems are identified, the faster things can be put into place to counteract any detrimental effects.
The significance of change within cold chains
Like the sector itself, making any addition to our mature healthcare and life sciences is a complex process. Changes of even the most minute detail could have the most significant effects – positive, or negative. We recognised the scope and opportunities that having a strategically-located temperature-controlled storeroom would offer to our customers, but what does it take to effectively execute?
It's safe to say there were a tremendous number of technicalities to consider throughout the design and build of this advanced piece of infrastructure, from capacity to functional design. And that's before you add in the ability to establish and maintain very specific temperatures.
The cold chain logistics market in the UK is set to grow by $9.17 billion, progressing at a CAGR of 11.22% from 2021 to 2026.
Aramex healthcare shipping, storage and logistics
Temperature mapping with Biomap
Involvement with over 180 life science companies led us to outsource the qualification and validation of the temperature-controlled facility to Biomap. They carried out temperature mapping across the entire storeroom to ensure the facility meets required standard and regulatory requirements.
Numerous probes were positioned within the facility in areas where temperature is more likely to fluctuate, near to extremities, AC units, and doorways. Data recorded by the probes communicates with electronic data logging monitors that cover the entire area in a grid-like fashion for maximum coverage and reporting. Importantly, the probes also took into account light and humidity, alongside temperature, making certain that any influence over a single degree Celsius was accounted for.
We're delighted to report Biomap's independent verification that the facility is, indeed, able to control temperature for product storage. Meaning it's fit for purpose, and open for business.
Related article: What Could Healthcare Logistics Look Like in 2030?
Who needs temperature-controlled storage?
So, who's going to be first to store their products in this advanced facility? It might sound obvious, but any manufacturer, retailer, or courier that needs goods storing to specific temperatures. Whether that's controlled room temperature (between 15°C and 25°C) for cosmetics, or cold chain temperature (2°C to 8°C degrees) for consumables, the purpose-built facility ensures a product's optimal storage temperature is strictly maintained and vigorously monitored.
What's more, our Poyle warehouse benefits from wrap-around security, and our temperature-monitoring activities are no different. Real-time data is accessible to the customer 24/7, whether that's to determine multiple product locations or the temperature at which a singular item is currently stored. And, in the unlikely event that environmental conditions change or fluctuate, activities are instantly flagged, and the relevant parties automatically alerted. Almost-instantly, adjustments can be made to re-establish required storage conditions, limiting risk of damaged products.
With worldwide pace to research, develop, and test temperature-sensitive goods picking up like never before, it's time for the enablers, like logistical and transportation operations, to step up.