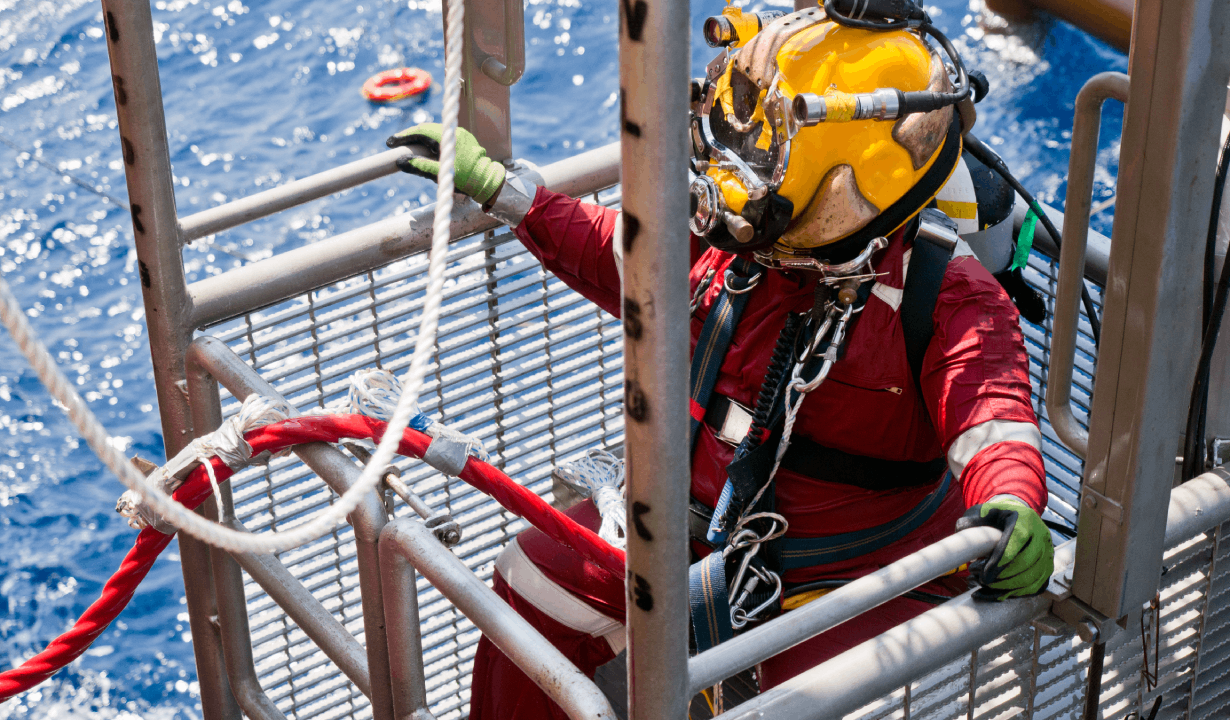 Let's look at why oil and gas diver safety is essential for operations.
Oil and gas diver safety is vital, particularly for underwater ship husbandry (UWSH) – the maintenance, cleaning, and general upkeep of a submerged ship's hull, rigging, and equipment.
Even though it's a high-risk industry, it's crucial that we keep pushing for improved diving safety while minimising the risks connected with UWSH.
Oil and gas shipping and logistics
Here are 5 tips for diver safety in oil and gas industry
1. Decades of collaboration
Did you know that oil and gas companies have been working hand-in-hand with commercial diving for more than 70 years? This collaboration has allowed us to develop subsea production capabilities and explore offshore resources. Nowadays, diving contractors still play a crucial role in various stages of oil and gas production.
It just goes to show that safety is key to making sure both industries continue to thrive. Divers are responsible for many important tasks, so their safety is essential for efficient operations and for preventing costly accidents and delays in the industry.
A 70-year bond unites oil & gas exploration with commercial diving.
Related article: 10 Latest Refinery Technologies Improving Safety and Efficiency
2. The crucial role of diving in oil and gas
Diving is indispensable in oil and gas for various tasks such as construction, installation, inspection, repair, and maintenance. Upstream operations often rely on divers to install and maintain subsea production systems like pipelines, umbilicals, floating structures, and offshore platforms. Divers also help with underwater inspections, identifying potential issues before they turn into bigger problems.
As the demand for energy resources grows and offshore oil and gas exploration expands, diving's importance will only increase. So, it's super important to make sure diver safety remains a top priority, since accidents can lead to huge financial losses, environmental damage, and a tarnished reputation for oil and gas companies.
Oil and gas shipping and logistics
Diving is indispensable in oil and gas for construction, installation, inspection, repair and maintenance.
3. Don't underestimate the risks
Even though there are hundreds of dives happening every day to support the industry, people often underestimate the risks involved. Injuries and fatalities can occur if hazards aren't recognised, and if proper safeguards like industry best practices and guidelines aren't followed.
Divers often face challenging conditions, such as limited visibility, strong currents, and extreme depths, which increase the chances of accidents. On top of that, many divers work freelance, meaning they might not be fully immersed in a company's culture, values, and norms for long, making it harder to build an open reporting culture. That's why it's crucial for oil and gas operators to invest in top-notch safety training and equipment for divers to minimise these risks.
Related article: Oil and Gas Logistics Companies Adapt to an LNG-powered Future
4. Let's work together to boost safety culture
Good news! Agencies and organisations are paying more attention to diving safety. Oil and gas giants and international associations such as the International Association of Oil & Gas Producers (IOGP) are stepping up their efforts to promote a safety culture in commercial diving. One of IOGP's main priorities is to speed up the implementation of global resources, providing a framework for a systematic approach to diving operations with best practices to share across the industry.
Another priority for IOGP is human and organisational performance, adopting five Human Performance principles to set a new standard for the industry and beyond. These efforts show the industry's commitment to improving diving safety and reducing accidents and fatalities linked to underwater work.
Oil and gas shipping and logistics
5. Embrace Innovation and new methods
As the need for working in the subsea environment grows, it's important for stakeholders to keep innovating and developing new technologies and methods to ensure safe and efficient underwater solutions provided by commercial diving. This includes advancements in diving equipment, such as surface-supplied diving systems, which offer better communication and safety features compared to traditional SCUBA diving.
In 2010, the first-ever robotic underwater vehicle powered 100% by natural, renewable ocean-thermal energy has been developed by NASA.
Related article: Can Crypto Mining Help Oil and Gas Sustainability?
We can also make use of remotely operated vehicles (ROVs) and autonomous underwater vehicles (AUVs) to perform tasks that may be too dangerous for human divers. By embracing and investing in new technologies and methods, the oil and gas industry can further minimise risks associated with UWSH and improve overall diver safety.
NASA developed the first-ever robotic underwater vehicle powered 100% by natural, renewable ocean-thermal energy in 2010.
What is simulated drowning?
Simulated drowning is an essential training tool that helps oil and gas workers get ready for underwater work. In this training exercise, trainees get to experience a simulated drowning scenario in a safe and controlled setting. This way, they learn how to keep their cool, stay focused, and follow the right safety steps when faced with real-life emergencies. Thanks to this hands-on practice, they're better prepared to handle actual situations, which helps lower the chances of injuries and even deaths in the high-risk world of diving.
Related article: Why Natural Gas Will be the Bridge to a Cleaner Energy Mix
Key takeaway
Diver safety is important in the oil and gas industry because of the long history of teamwork, vital roles divers play, overlooked risks, the industry's focus on creating a safety culture, and advancements in tech and methods. By doing thorough risk assessments, communicating safety measures clearly, and giving divers the right training, experience, and tools, we can cut down on risks linked to UWSH and stop diving tragedies from happening.